Roderic Macmillan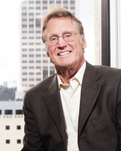 Rod began practicing law in Portland in 1976 at the law firm of Schwabe, Williamson, Wyatt, Moore & Roberts where his work focused on subrogation and personal injury and property damage defense litigation. Over the past several decades his work centered on personal injury defense and the analysis of insurance coverage issues. It is from that base of experience that the firm grew. Rod retired at the end of 2012.
Education
University of San Francisco, School of Law, San Francisco, California. Graduated in 1975.
University of California Berkeley, Berkeley, California. Graduated in 1970.